For the Ninth year running, Cirencester Chamber of Commerce held the Cirencester Business Awards, rewarding and celebrating the best the town has to offer. Cirencester has a vibrant and exciting business community, offering an incredibly wide range of products and services to not just the town but the whole country and beyond. The Chamber was delighted to receive so many entries, and the judges were very impressed with the quality of each one. We cant thank our sponsors and supporters enough, so many to mention, The Kings Head Hotel, DJ Sports, Persephone Violet, Kay Ransom, Roy Bowyer, Corinium Continuous, Lounge Design and William Miles, Vernon Harwood.
Business Person of the Year
Sponsored by:

For this award the judges were looking for an individual who has made a significant impact on the business they work in, either as a leader or team member.  Someone who is inspirational, both within their business or industry and in the local business community.  In addition, they wanted to see evidence of the highest levels of business acumen, outstanding personal qualities, a wealth of achievements and respect from their peers.  There were a number of strong entries for this Award.
Sponsored by:

Winner: Kelly Keen
The judges feel that the winner of this award is inspirational. They have grown multiple businesses over the past 4 years and have overcome many obstacles along the way, which has given them the passion to continue to succeed. This individual also works very closely with many charities and events throughout Cirencester, which has had a positive impact on the town.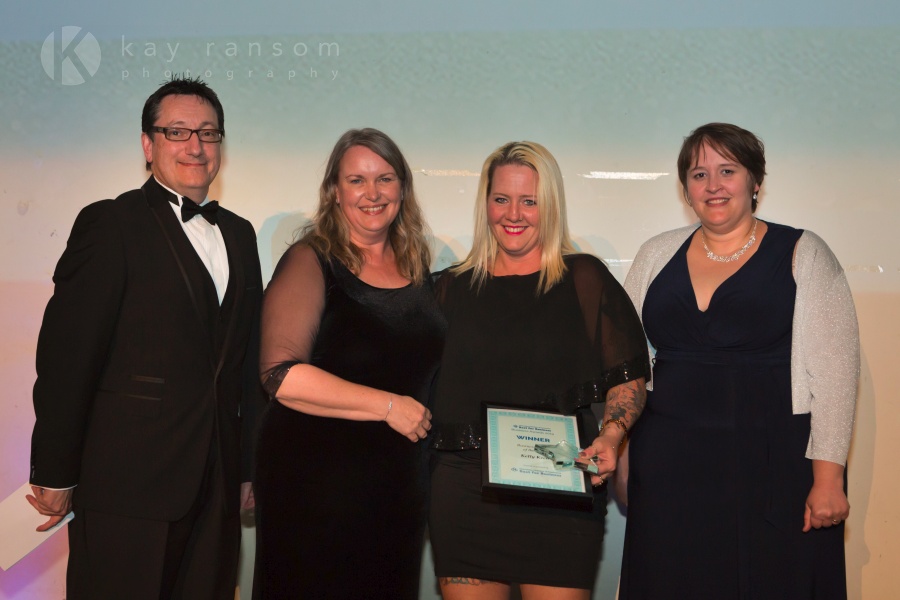 ---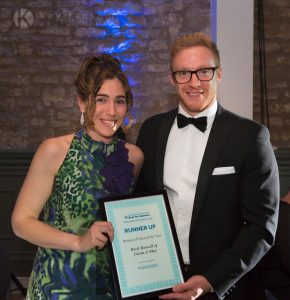 Team of the Year
Sponsored by: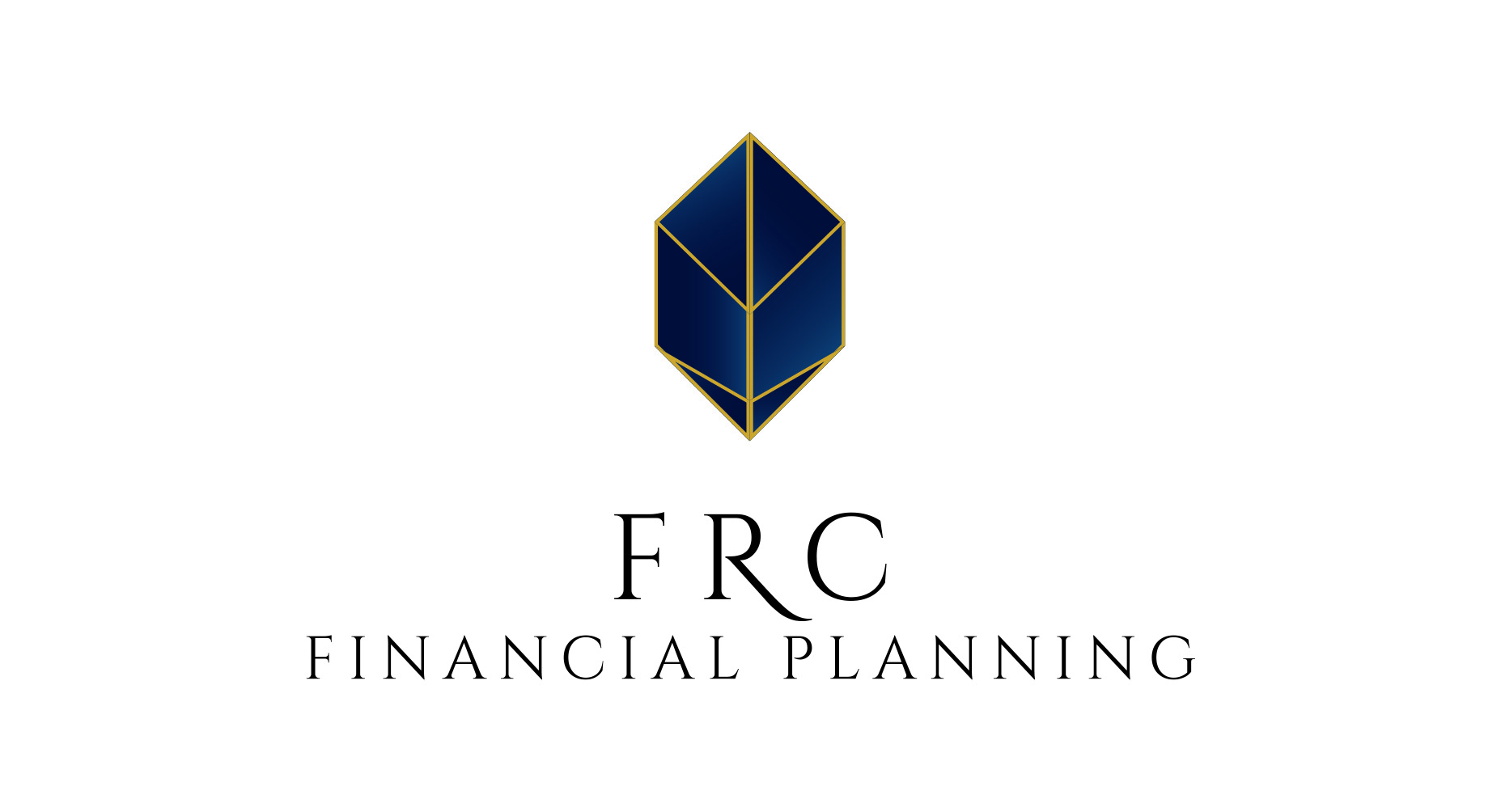 Organisations stand or fall on the strength of the bonds between the people working for them. The judges were looking for well-defined aims and objectives, high levels of trust and commitment, great relationships, and a successful outcome – as well as that all important team spirit. There were many entries in this category, and the results were very close.
Sponsored by: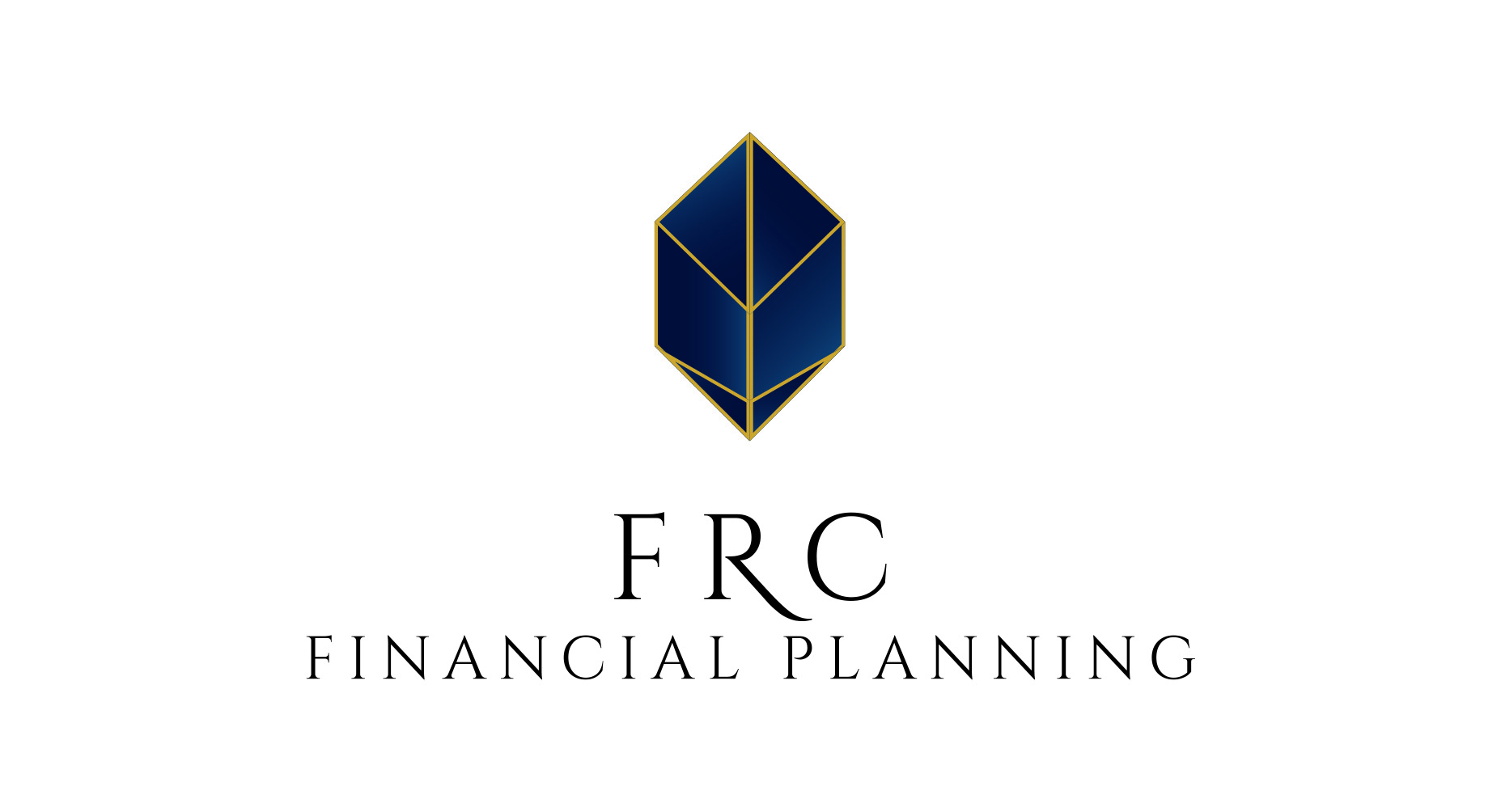 Winner: Cirencester opportunity Group
The winners of this award have been serving the local community since 1973. The entry demonstrates that their entire team is devoted to ensuring that every child under their care is given the support that they require to reach their full potential. The judges also feel that this team go above and beyond to fulfil this vision.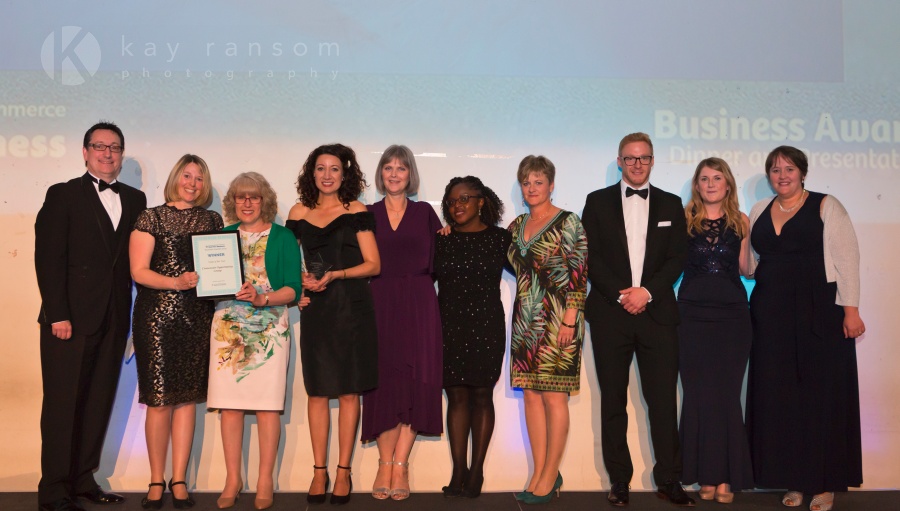 ---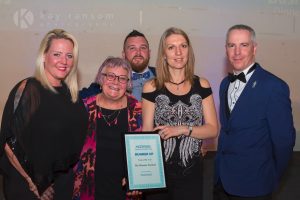 Cirencester Corporate Social Enterprise Award of the Year
Sponsored by:

This award is aimed at businesses or organisations (with a commercial operation) of all sizes, to show how they have contributed positively towards the local community and environment in Cirencester – above and beyond their trading remit.  The judges were looking for those that go that extra mile to help our local community, and will not be judging on amounts of money spent. Judges will be looking at evidence within a range of different approaches, from businesses offering ongoing, steady and reliable support, to the more imaginative and innovative community projects. This was a highly competitive field.
Sponsored by:

Winner: Lounge Design
The judges believe that the winner submitted a fantastic entry, which outlined how the business has made a big difference to so many groups of people within the local community. The judges went on to say that this business is truly inspirational, setting a great example of how to do CSR.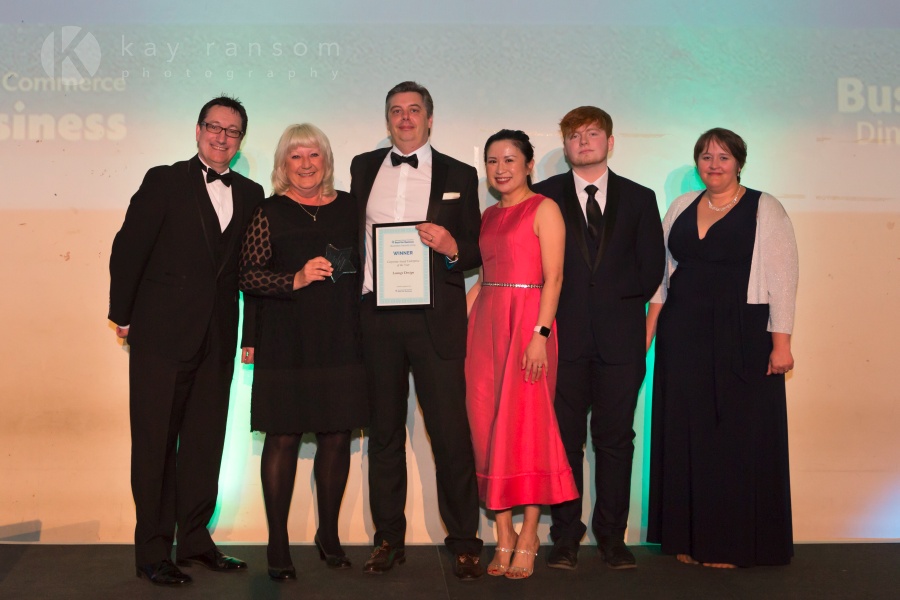 ---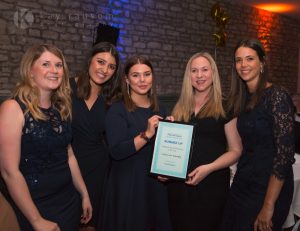 New Business of the Year Award
Sponsored by: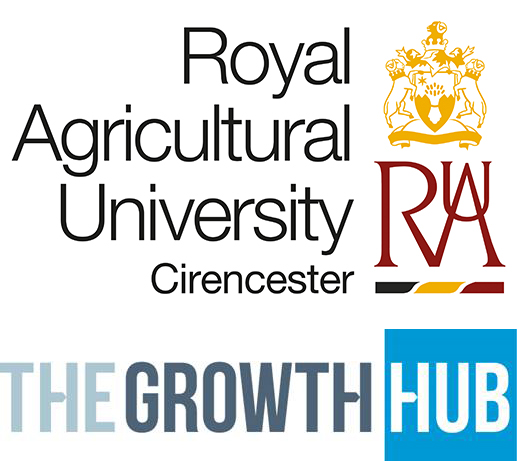 This category was open to new ventures with no more than 3 years of trading history.  The judges were looking for a business that has grown from an idea to a thriving business, achieved through planning, commitment, energy and determination.  This was a closely contested category, and the judges were impressed with the quality and range of new businesses in the area.
Sponsored by: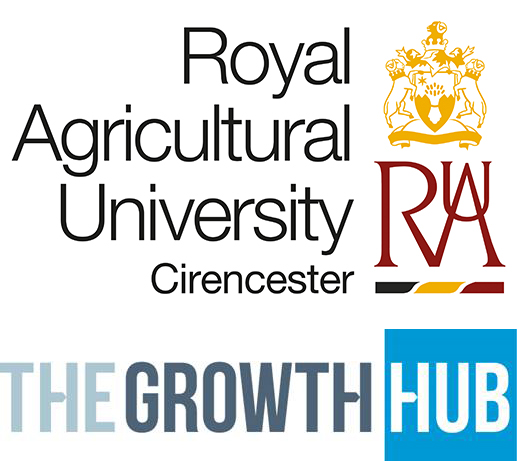 Winner: The Old Café
The winning business opened in 2017 and since then has made its place within the local community, with excellent reviews and evidence of providing a fantastic customer service. This business ensures that their customers always come back for more.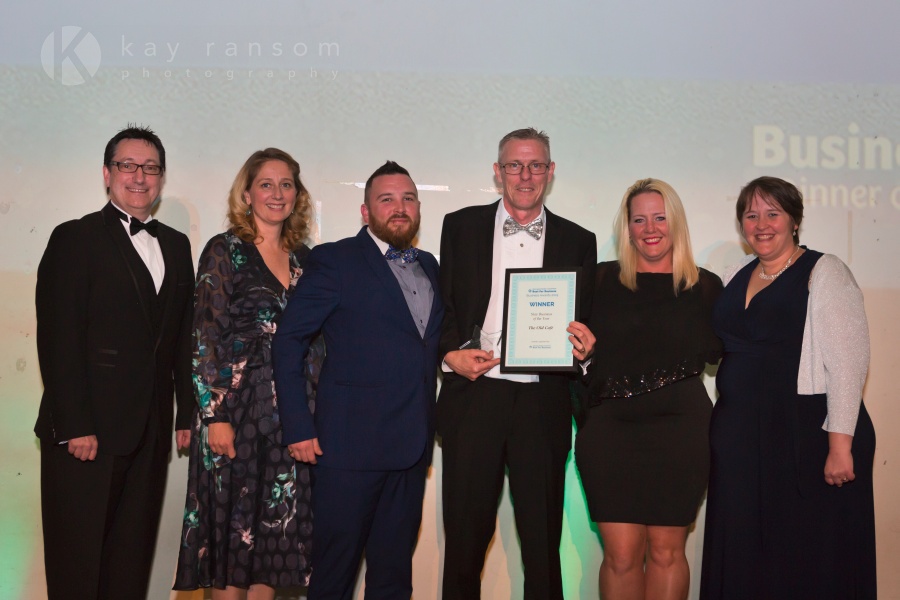 ---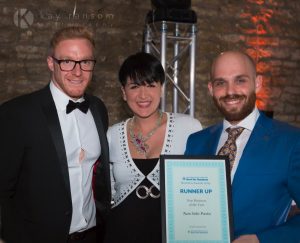 Retailer of the Year
Sponsored by:

This category was open to independents, chains, and multiples.  Judges were looking for a retailer that understands its customers and stands out from its competitors with outstanding products and service.
Sponsored by:

Winner: Persephone Violet
Our winner  the business owner is becoming an established  member of the business community but also developing additional skills to offer a wider range of services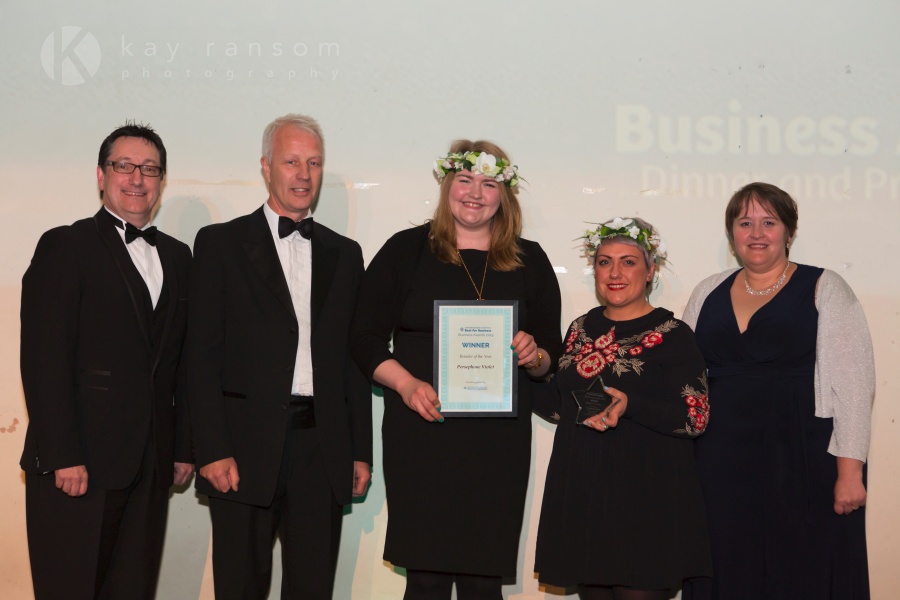 ---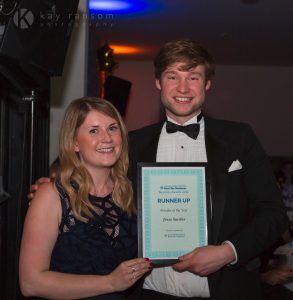 Professional Services of the Year
Sponsored by:

This award is aimed at any business which provides professional services for its clients.  The judges were looking for businesses that demonstrated why they are the right choice for their particular professional service, as well as examples of imaginative and innovative ways of enhancing their offer to their clients.  This was a highly competitive field, with many entries all showing very high standards.
Sponsored by:

Winner: Kay Ransom Photography
The judges were impressed by the winning business's enthusiasm and dedication to provide a high standard of customer service. It is also clear that they have invested a lot of time in refining the customer experience. This approach has resulted in a loyal customer base throughout the local area. It is also fantastic to see that they have worked collaboratively with many businesses from within the town.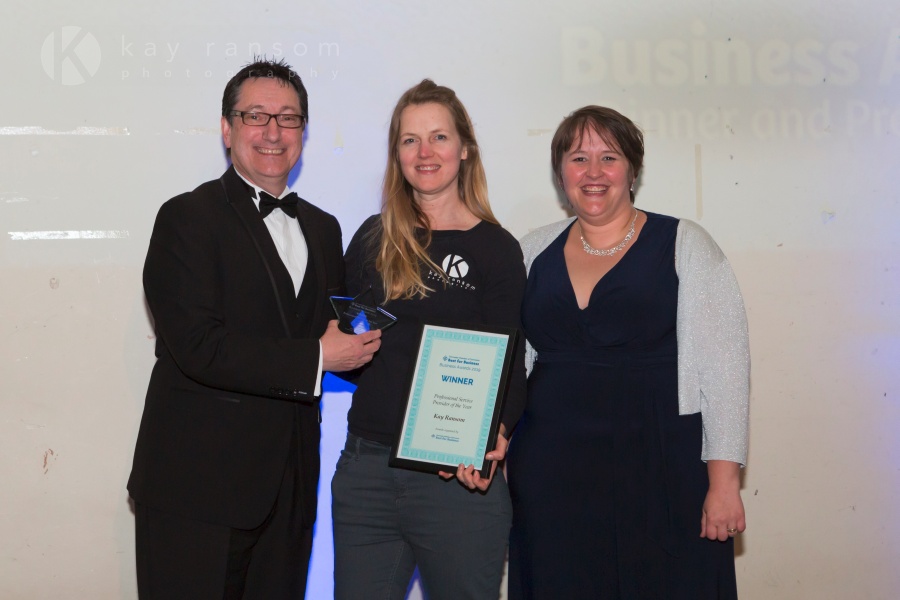 ---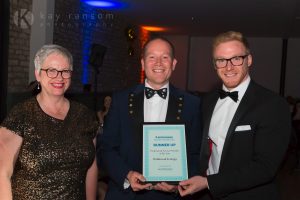 Hospitality & Entertainment Provider of the Year
Sponsored by:

This award is aimed at hotels, pubs, restaurants, cafes and eateries, and/or any venue which offers great entertainment too.  As well as looking for entries that provide good quality food and beverages for the price set; facilities, entertainment, presentation, service and recommendation. The judges were also looking for clear examples of customer satisfaction, repeat custom, high levels of team work, warm and friendly atmosphere, and where applicable, locally sourced produce.
Sponsored by:

Winner: The Kings Head Hotel
The winners have worked hard to engage with the local community and have hosted regular public events to encourage more visitors to the town. Over the past 12 months they have increased their occupancy and covers. This has been achieved by making changes within the business to continue to meet the needs of their guests and enhance their experience. This has also resulted in customers coming back time and time again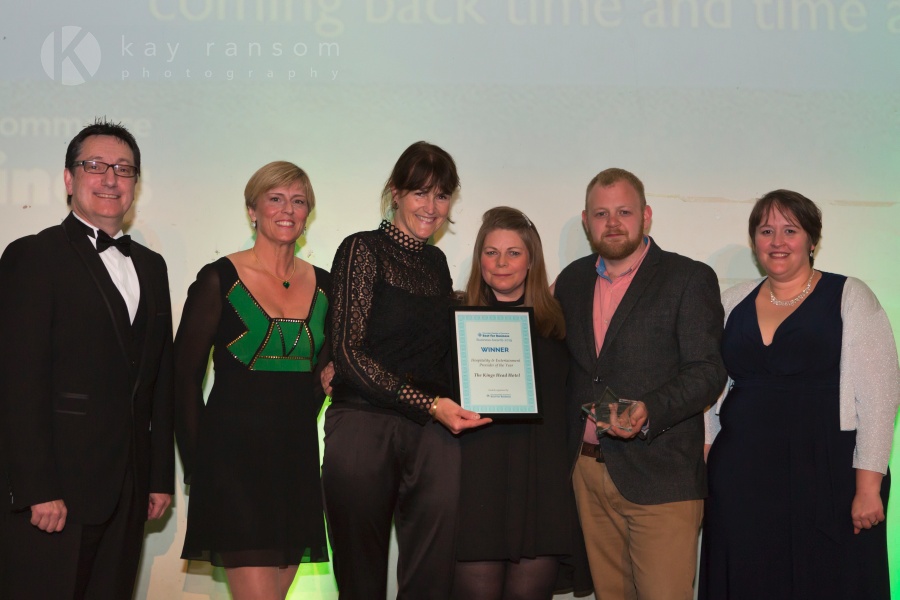 ---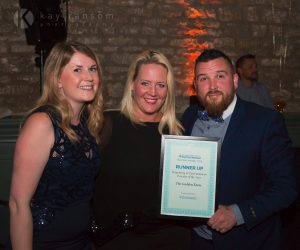 Business of the Year
Sponsored by: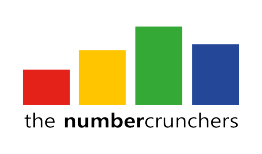 This award is aimed at all sizes of companies, whether large corporates, SMEs, partnerships or sole traders or working from home. Running a business presents unique challenges in terms of logistics, skills and management. The winner should be able to demonstrate how their company has successfully achieved a balance of core business activities including financial growth, ongoing sustainability, operations, HR, sales and marketing as well as outlining any provable positive social impact on the local community and will be supported by testimonials of client satisfaction.
Sponsored by: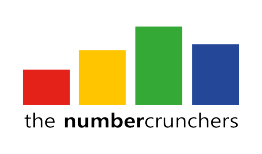 Winner: Jesse Smiths
The judges were impressed by the winner's ethos and vision and felt that this really shone through in all that they do within their business. The judges have commended them for embracing change and adapting their products and services to suit the times. They have also kept their offering competitive without compromising on quality and service. Furthermore, it is fantastic to see that they use local suppliers as well as encourage and support youngsters who would like a career within the industry. This is a business that Cirencester should be very proud of.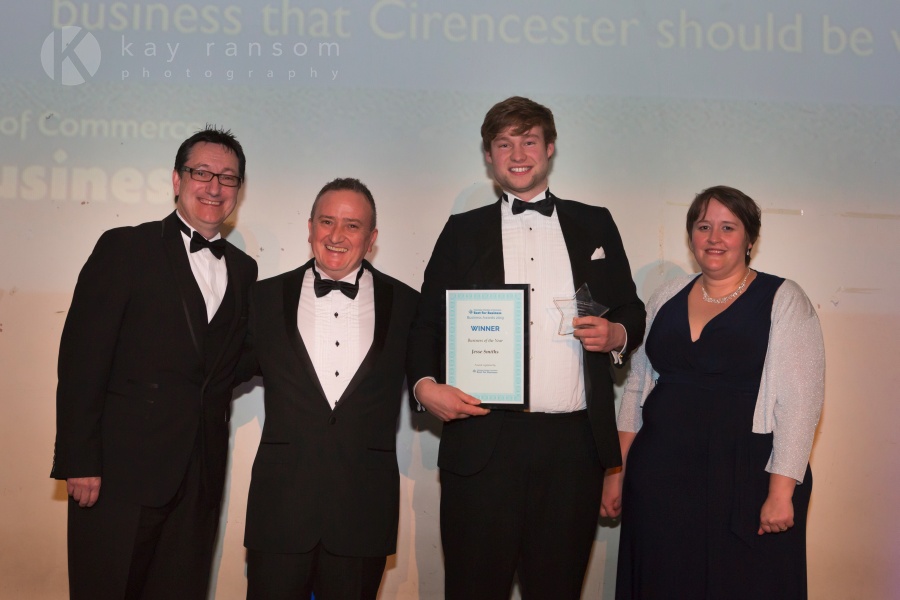 ---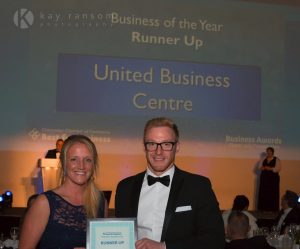 Apprentice of the Year
Sponsored by: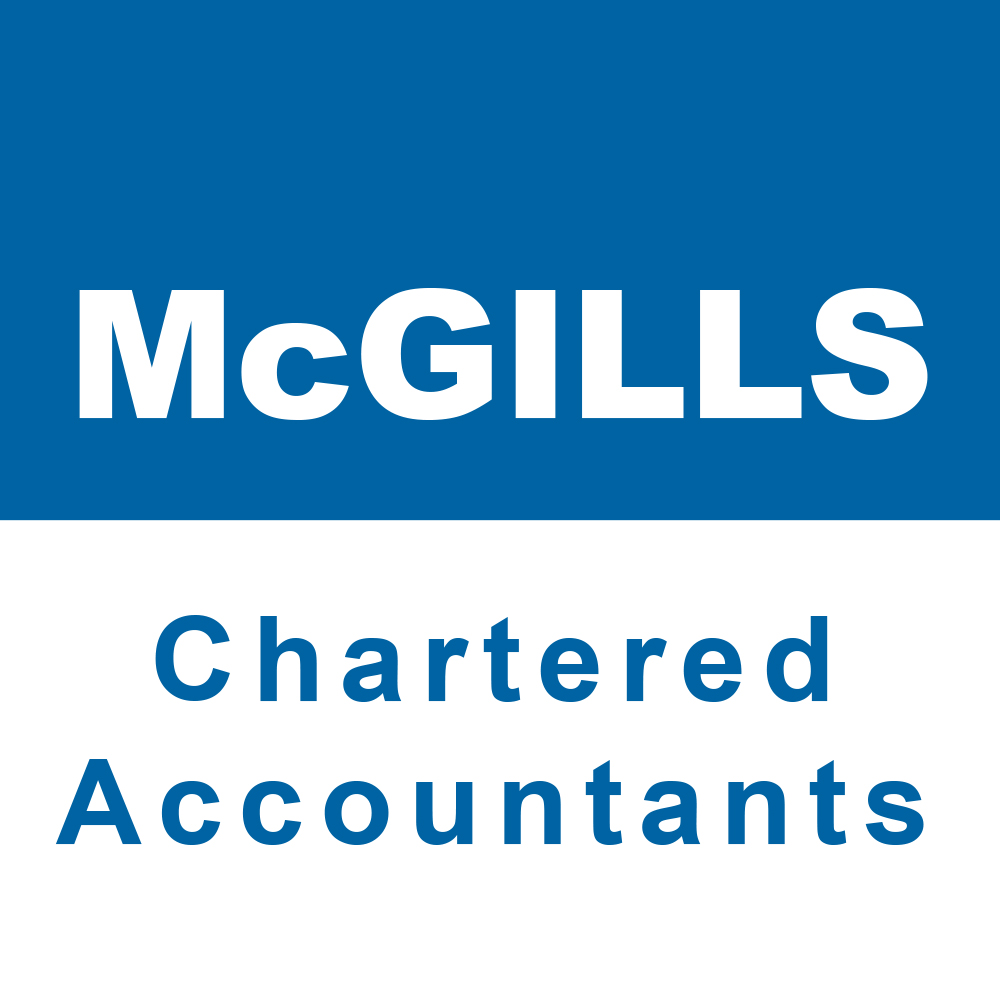 The Judges were looking for entries which showcase the impact an apprentice has had on the organisation they work for, as well as being able to show growth and commitment to their own personal development and progression.
Judges will be looking for entries that demonstrate an exceptional contribution to the work of their organisation, and high levels of passion and motivation to develop their own workplace skills, knowledge and behaviours.
This apprentice can be working within a business of any size, but should have proven themselves as a dedicated member of the team in which they are working.
Sponsored by: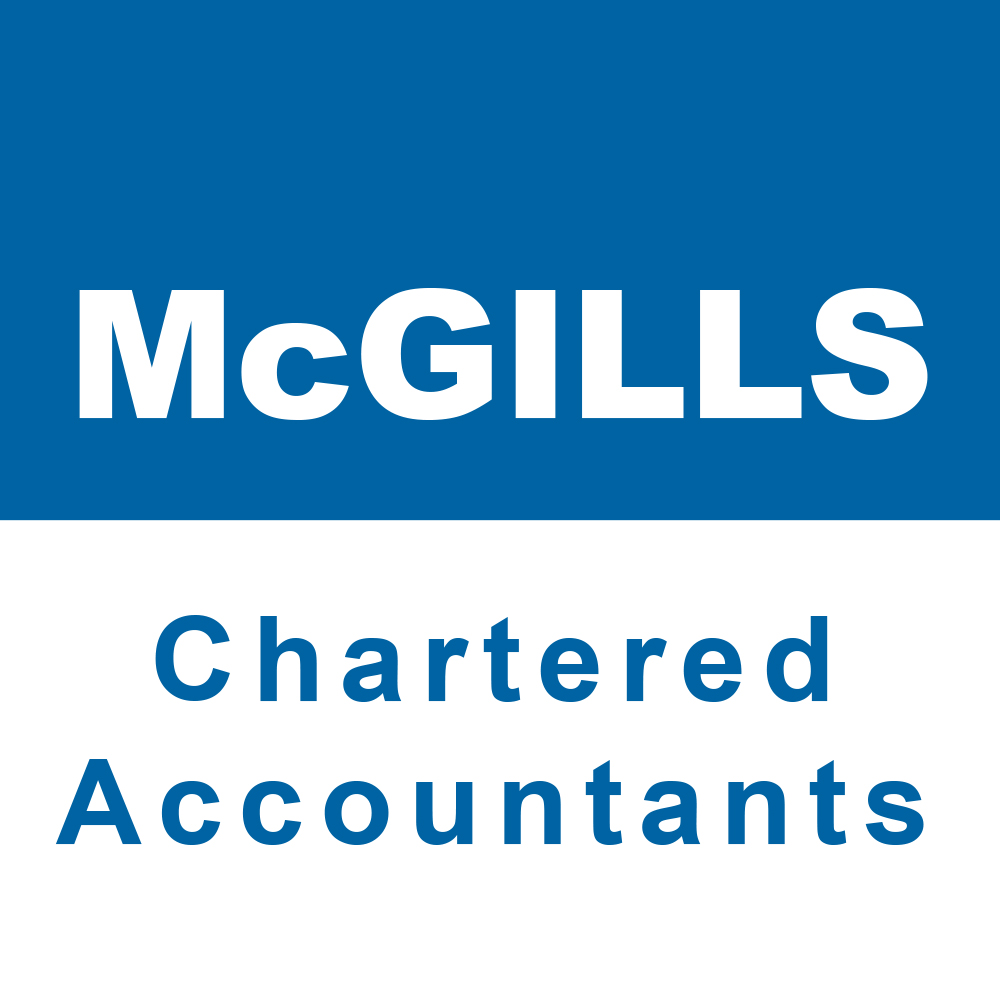 Winner: Eryn Sergeant Cirencester Friendly
The winner has achieved so much in their short time at this company; the judges were extremely impressed by her confidence and achievements along with her handwork and values. The individual is an asset to the organisation as well as being recognised as a team player by their peers.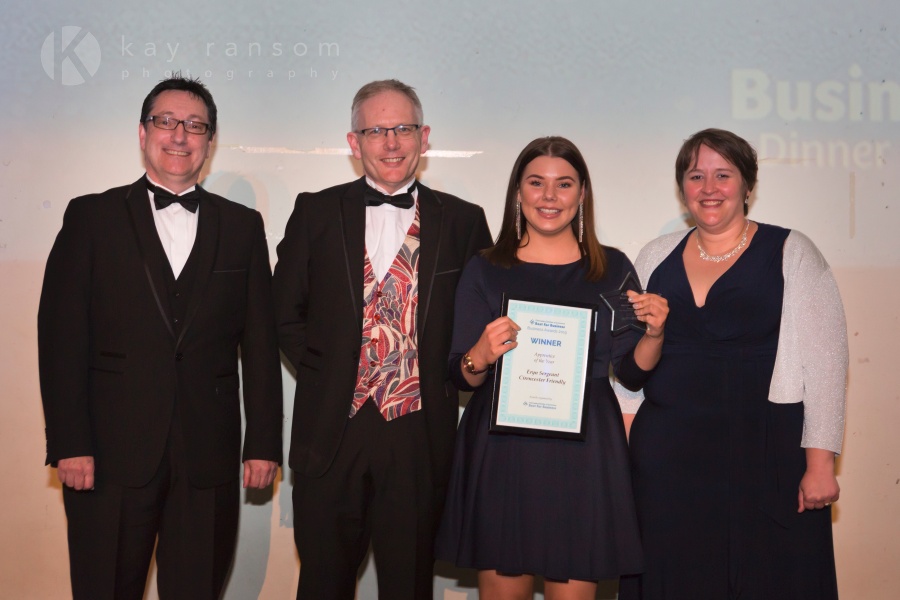 ---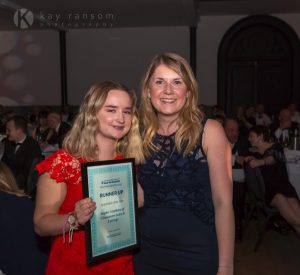 Young Enterprise of the Year
Sponsored by: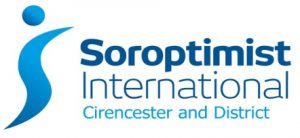 This award was aimed at the young entrepreneurs of today who are the business leaders of the future. Judges were looking for entries where a person or team have demonstrated exceptional entrepreneurial skills (creativity, leadership, hard-work, determination, resilience, customer service) in turning a business idea into reality. The category was open to people 25 or under and, as a bright star/stars of the future, be able to demonstrate balancing enthusiasm with professionalism and a great personality.
Sponsored by: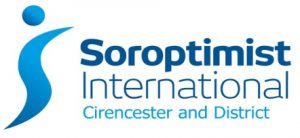 Winner: Persephone Violet
At the age of only 23, the winner has created a growing business, 10 fold since 2017, which now consists of a team of 6 and has its own retail premises. The owner has pushed creative boundaries in the world of floristry and her customer feedback proves just how popular this unique business is.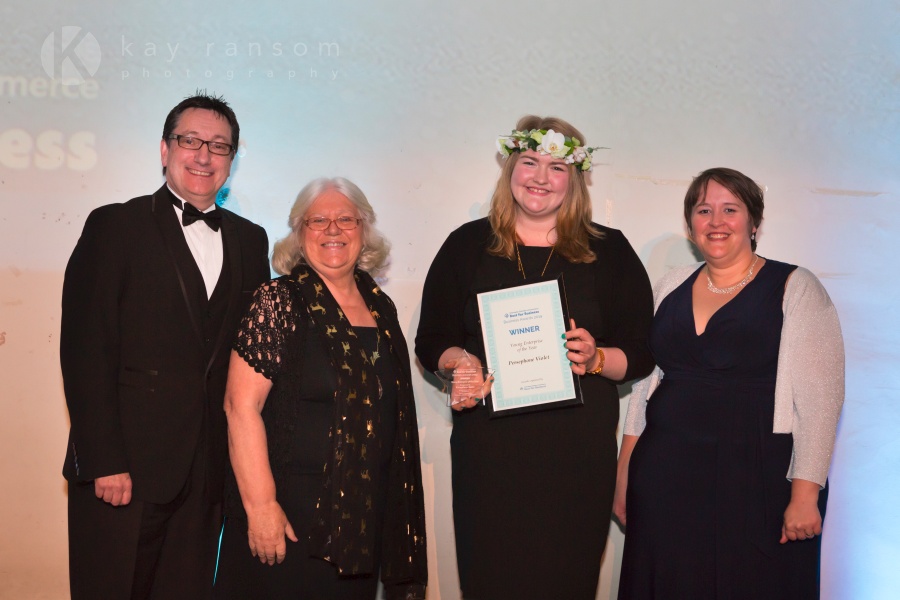 ---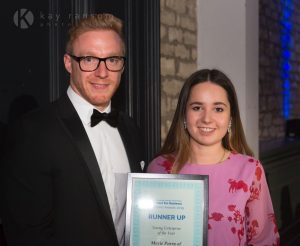 Wilts & Glos Standard Customer Service Award
Sponsored by:

This could be a shop or solicitor, a bank or pub.   In a town that prides itself on friendliness and quality of service in all kinds of business, this was not an easy task! The Customer Service award winner offers high quality offices to rent in Cirencester on a business park, providing a co working environment for all types of businesses from new start-ups to larger businesses. Nominations mentioned the excellent customer service provided by Jenna and Michelle, who always made them feel welcome and went out of their way to make sure they helped with any issues.
Sponsored by:

Winner: UBC UK LTD
This young woman has led on Youth activities/events for the past 11 years and some of her successes have included The Phoenix Festival, Ozone Youth Club, Cirencester Youth Town Council, Beeches Junior Warren Scheme and supporting young people to achieve their dreams and win national awards such as Amy May-Knowles winning best young volunteer in the UK through inspired and supporting a group of young people to win the inspirer's best team in the south west two years on the run.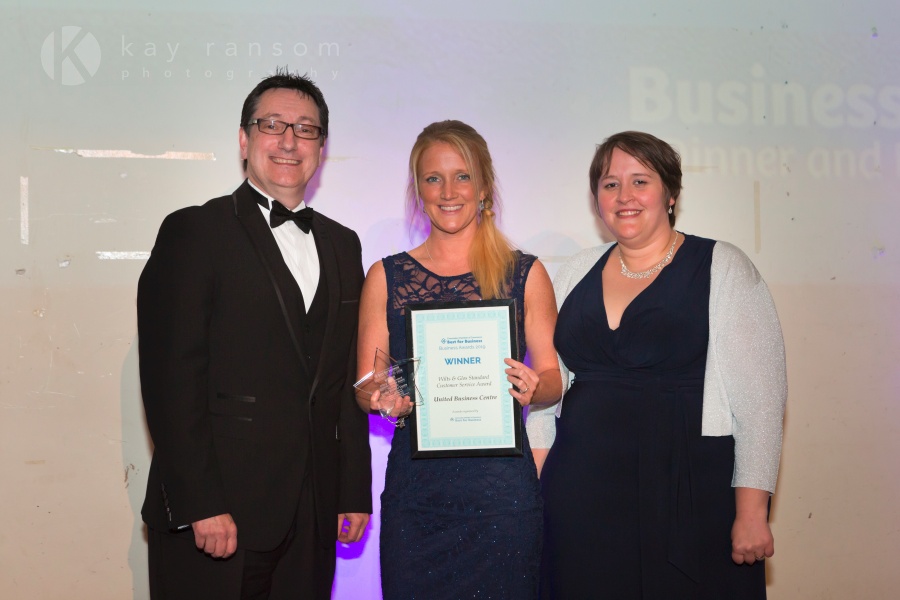 Cotswold Business and Professional Life Cirencester Ambassador Award
Sponsored by: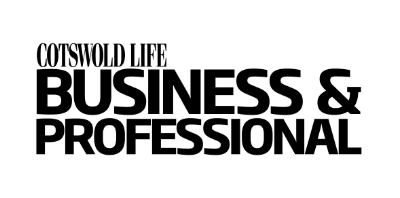 The winner of the award always goes above and beyond to help Cirencester communities and often volunteers on projects and was a part of our future Cirencester and establishing Cirencester Community Development Trust Of which she was a director for three years. She has also worked closely with The Churn Project to help set up the community groups operating in each ward.
Sponsored by: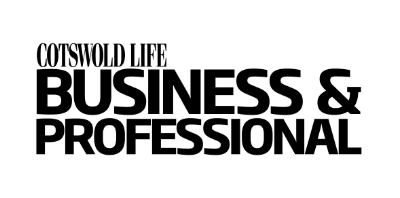 Winner: Clare Bartlett
This individual is now leading on the Ozone hub at Cirencester Skate Park helping young people and offering advice and guidance when needed. The site has seen a reduction in anti-social behaviour since she started this project. She has recently secured funding to be able to purchase a porta-cabin designed to specifications and needs of the site users and it should be in place by The summer holidays of 2019.
During her time as the youth initiative officer she has raised over £250,000 for projects in Cirencester.
This young woman deserves some recognition for all her hard work and dedication to help make Cirencester a better place for all and promote what great work the people of Cirencester do she always goes above and beyond and is there when anyone needs any help, support or guidance night or day.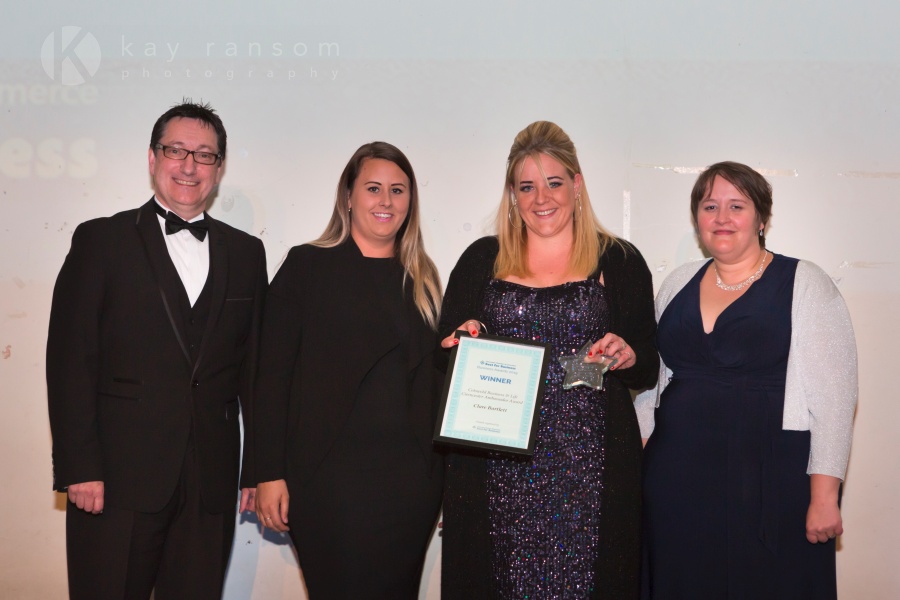 Cirencester Scene Creatives Champion Award
Sponsored by: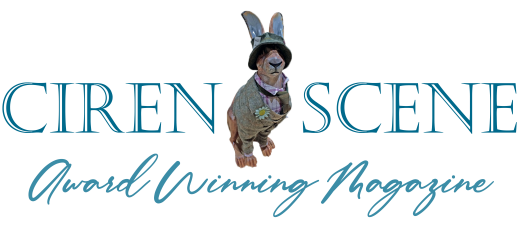 Our winners tonight received more than 60% of a huge public vote for this category. Musical Director Sandra Dukes and her husband Trevor, established the Corinium Players Guitar Ensemble as a charity in 1999. Its objectives were to advance the education of classical guitarists of all ages, to encourage children and young people to play classical guitar and to educate the public in this genre.
Sponsored by: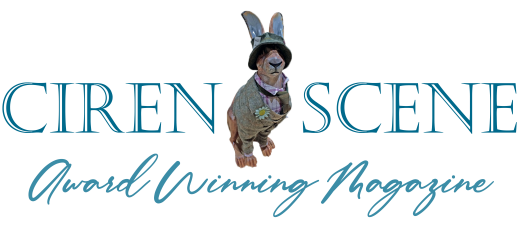 Winner: Sandra & Trevor Dukes of The Corinium Players Guitar Ensemble
The ensemble consists of over 50 local youngsters between the ages of 8 and 18 who perform regularly, both here and abroad, with a range of well-known professional guitarists. Sandra conducts their well-received performances and arranges a lot of the music herself.  Being a part of this group offers members many musical opportunities. Several have played for the National Youth Orchestra and some have gone on to study at the Royal Northern College of Music and Trinity College London. This Award of Creatives' Champions 2019 is in recognition of the ongoing hard work and commitment of Sandra and Trevor Dukes, and it is particularly fitting now, as the group celebrates its twentieth anniversary this year.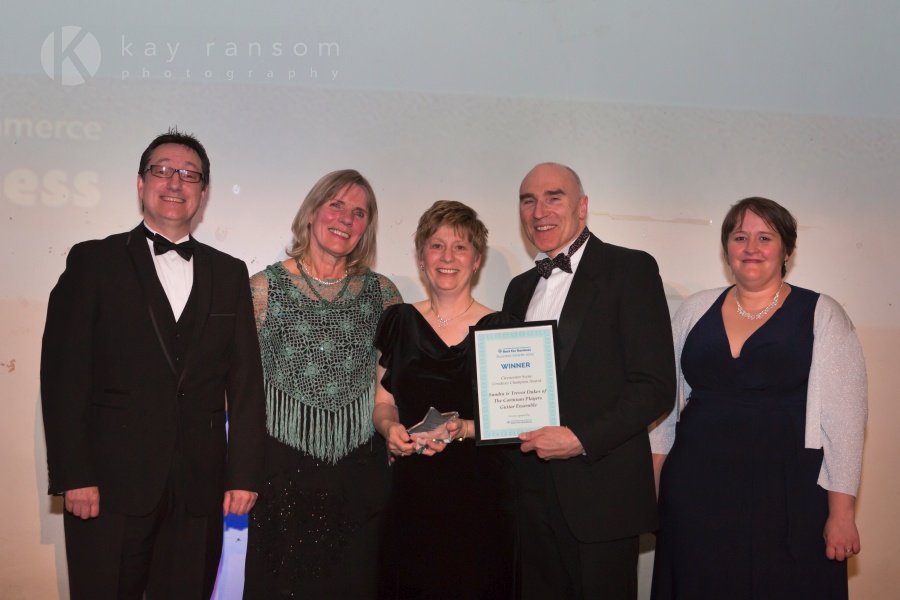 Cirencester Chamber of Commerce Award
Sponsored by:

Every year, the Chamber is able to give a 'special award', which has no category. The award is given in recognition of a business or an individual who has made a significant contribution to Cirencester in some way.
A good idea is of no use if nothing is done to make it come to reality. There are lots of people in Cirencester with 'good ideas', but this person brings those dreams to life. For over 30 years he worked at the RAU, starting off with rolled up sleeves and perched on a piece of farm machinery and finishing up in 2017 after having been Director of Business Development and attracting millions of pounds to the University and, by extension, the town.
Sponsored by:

Winner: Simon King
Simon was the driving force in getting the Growth Hub funded and built in Cirencester: that's £1.3 million pounds and a brilliant workspace for us, the businesses in and around the town.
And maybe it's not surprising he is so dynamic, he is, after all, a former President of the Chamber of Commerce!
His achievements are too many to list in the time we have, but suffice it to say, you will always find him moving and shaking and not just talking about investment in the town but getting it. He is a great ambassador for Cirencester