Adam Vines, the owner of the successful and award winning business, Lounge Design, has taken on his first ever apprentice. The appointment comes 30 years to the day (1st July) since he started his own 'YTS' (Youth Training Scheme).
Adam's new apprentice, Will Miles, who recently finished a work placement with Lounge Design, whilst studying A-levels at Cirencester College, which include Graphic Communication and 3D Design.
The creative industries have experienced tremendous change since the 1980s: when designers used the likes of Letraset, typewriters, fax machines and, if they were lucky, a once a week experience on the new Macintosh computer! £25 a week would then have been considered a good apprenticeship wage.
The subsequent increased reliance on web development and online advertising means Will can create designs that are entirely digital, using programmes like Photoshop and InDesign, to develop new branding for Lounge Design's customers. "It's completely different to how it was," Will explained. "Being here, I'm learning how complicated design can be and how to develop an eye for detail."
That doesn't mean the entire process has changed, said Lounge Design owner Adam Vines: "I am trying to instil in Will that he needs to reach for pen and pencil first." Adam explained that it's not about the end result, but the thinking behind it, that is critical.
Lounge Design recently won 'Corporate Social Enterprise of the Year' at the Cirencester Chamber of Commerce Business Awards for its community outreach programme. This involves making their services more accessible to local charities. "It shouldn't just be big businesses who make a difference locally," said Adam. "All of us are part of a community and so we needed to do our bit."
Last year, Lounge Design was involved in designing the Cirencester calendar in partnership with Lady Bathurst, as well as branding for 'Music for the Mind,' a festival that supports people suffering from mental health issues. The former raised over £10,000 for three charities and is a project that Adam plans for Will to be a part of during his apprenticeship.
Will is already rapidly developing a portfolio of his own at the company, having recently designed all the branding for the Cirencester Business Awards. "It did feel quite surreal. I was only doing work experience at the time and so didn't expect Adam would allow me to work on such a big project. There was a lot of pressure because I knew a lot of people were going to see it," said Will.
Adam admits he did throw Will in at the deep end, but to amazing success: "The councillor behind the project came in and he dealt with it really well. I spoke to them after and they said he came across as very professional," said Adam.
"My graphics teachers at the College want me to come in and talk to the students next year to talk about my work experience and apprenticeship with Lounge Design," Will added. "I'd definitely recommend apprenticeships to anyone who's not sure about going to university as this is a way to learn on-the-job!"
The experience is just as rewarding for employers is the message from Adam: "This is going to be learning curve for me as well! I see this as the start of a new chapter for the business and hopefully Will can teach me a thing or two."
"I hope to continue to work with Cirencester College in this way in the future, especially looking ahead to things like the new Technical Levels (T-levels) and other apprentices," explained Adam.
It's only Will's first week, but it sounds like he's already set the bar high.
If you would like to take advantage of the exciting opportunity that apprenticeships and T Level placements can offer, please contact the College on apprenticeships@cirencester.ac.uk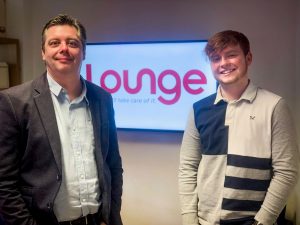 For more information on this story please contact Izaac.cole@cirencester.ac.uk